Techcom 3Kva - 3000VA Solar Inverter
Actual Stock Can Be Confirmed After Placing the Order.
All Delivery times are estimated based on the official restrictions.
The Techcom 1060VA UPS is line-interactive, which means that it has the ability to handle overvoltage surges and under-voltage brownouts without utilizing power from the battery. It instead selects the various power taps on the autotransformer.
PRODUCT OVERVIEW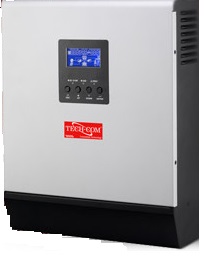 Key Features
3000VA/2400W
PWM Charger Controller
Charging Current 50A
Battery voltage 24VCD
Maximum Charge Current 20A or 30A
2pcs x 200AH Battery Bank Included
More Information

| | |
| --- | --- |
| Product Name | Techcom 3Kva - 3000VA Solar Inverter |
| Weight | 0.45 Kg |
| Output Power | 3KVA/ 3000VA |
| Manufacturer | Techcom |
| Color | Black |
| Country of Origin | United Arab Emirates |
Shipping Worldwide

Yes, that's right, we do!
Compare Products
You have no items to compare.